The History of the Upholsterer - the "Interior Designer"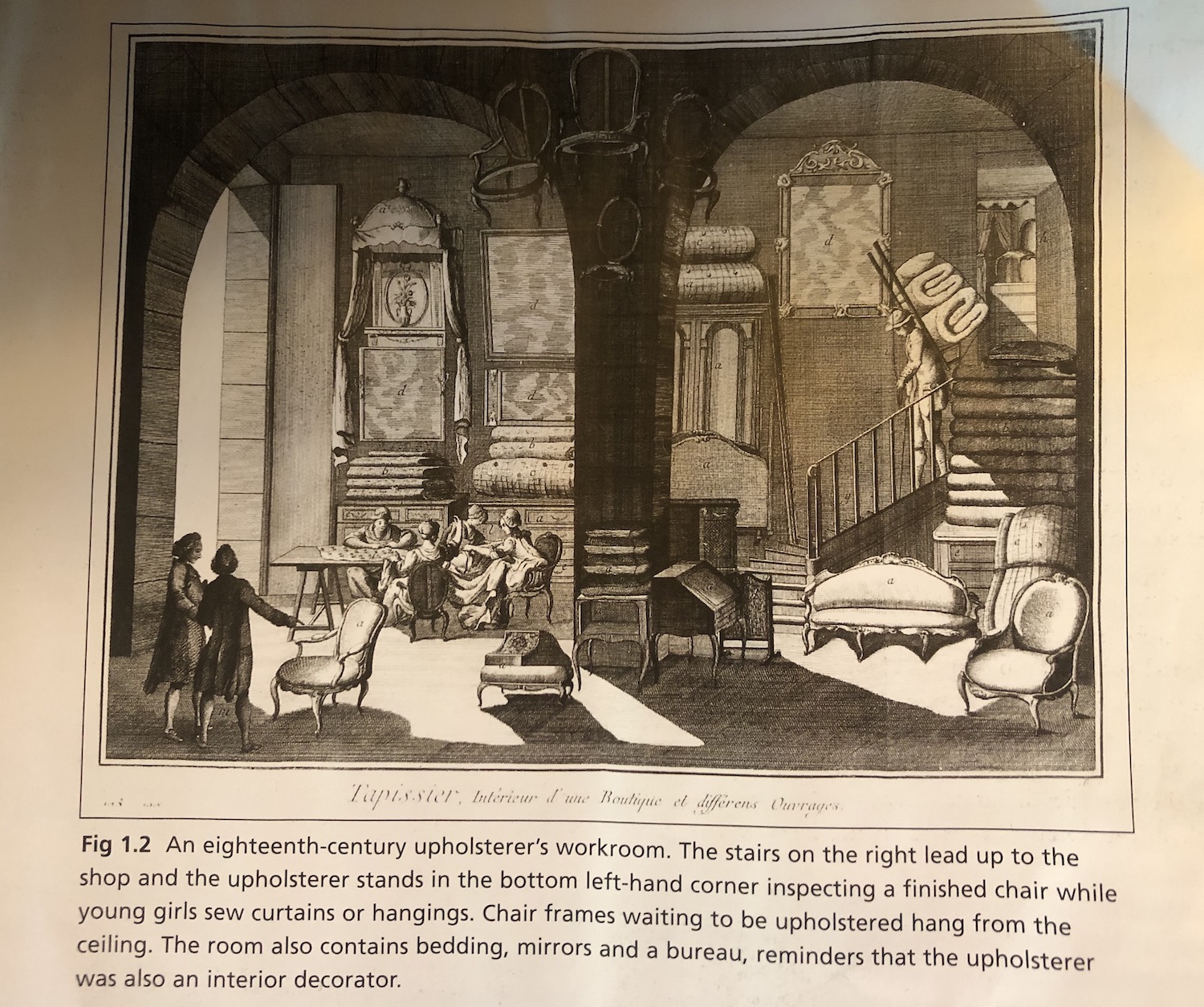 Source: From David James book "Upholstery - a complete course"
The craft of upholstery is an ancient one dating back to the Middle Ages. It has a fascinating history, and as a traditionally trained upholsterer, I feel its story should be told, and the highly skilled traditional methods employed by our ancestors taught to future generations of upholsterers so that the complexities and details of the craft are not lost forever.
The craft was documented as far back as 1 March 1360, when The Worshipful Company of Upholders was formed and then much later incorporated by a Royal Charter in 1626 by King Charles II. The Upholders are one of the ancient Livery Companies of the City of London. The term "Upholder" is an old word for "upholsterer". Upholders would carry out the manufacture of not only upholstered items but were also cabinet makers, undertakers, soft furnishers and auctioneers. The Company received its coat of arms during the reign of Edward IV in 1465, which features three tents on it. It is believed that the craft of upholstery originally evolved from tent-making.
Upholstery as we know it, became popular in the 17th Century when it became fashionable in the wealthier households to have luxurious padded chairs, cushions and wall hangings - perhaps less luxurious when they were stuffed with grass, sawdust or animal hair, but it demonstrated class and wealth. It was an all-encompassing term at the time and included window drapes and curtains, floor coverings and bedding, as they were all crafted by skilled upholsterers with great attention to detail. Many of these items today would be referred to as soft furnishings, but this wasn't yet a skill shared by many. This period became known as the textile revolution, and took place during the Industrial Revolution between 1760 and 1850 having a dramatic impact on work, commerce and everyday life in Britain.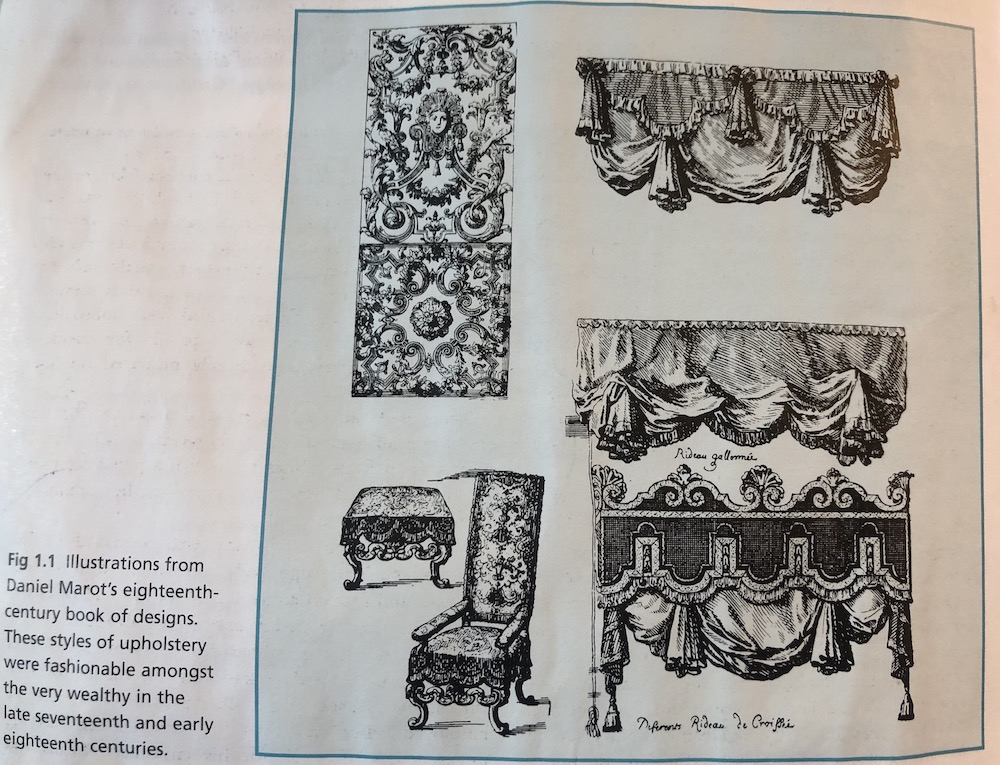 Source: From David James book "Upholstery - a complete course"
Over time, the trade developed, as did the skills and it was stitched edging that changed the game for upholstered furniture. All of a sudden, furniture with ornate wooden carvings appeared with plush seats and backs and sumptuous designer fabrics. By the end of the 18th Century, the upholsterer had become the main tradesman in co-ordinating and producing all aspects of furnishings for a home, and thus had an equally essential role as an "interior designer".
It was around this time that the "farthingale" chair was created, an armless, boxy chair, originally named the 'upholsterers chair', popular with the wealthy ladies, with their wide-hooped skirts (namely farthingales). Later, in the early 1700s, the first fully upholstered bench as created, called the "sleeping chair".
During the revolution, the Knole Settee was also born, and has been recreated countless times since. Originally used as a formal throne for the monarchs, this has been adapted along the way to be a comfortable sofa of distinctive shape with its hinged sides tied in wooden finials. The original still resides in Knole House in Kent today.
Which almost brings us up to modern-day, when upholsterers brought comfort to the masses. With innovations in steam and steel, weavers could turn out mass products much more cheaply than ever before. It was discovered that the steel coil spring, originally designed for the railways, helped make seat cushions softer and more durable, and fabrics became more colourful, luxurious and most importantly, more affordable.
Today our focus is not only on looks and comfort, but also sustainability. While the 20th Century brought with it innovations in new materials such as nylon and polyester and synthetic stuffings to replace traditional materials, in many ways we have gone full circle. At the Bespoke Footstool Company, it is important to us that we use the finest natural and traditional materials available. Traditional furniture was built to last and we follow that ethos, from the solid wood frames (no screwed on legs – remove as occasionally they are!! to the traditional webbing and environmentally friendly stuffing.
Upholstery has for many years been a male-dominated trade, a physical job requiring muscle and strength. The last decade however, the trade has seen a massive influx of new talent, many of which are women, and although strength is required, it's far more about the technique underlying the processes than muscle. More and more people are interested in learning upholstery as we have seen by the uptake in our footstool and chair making courses, either as a hobby or as a new career. We are delighted that this artisanal trade steeped in tradition is receiving a breath of new life.